microPMU Synchrophasor
Pinpoint Grid Stress with a Synched System View
When it comes to power grids, unseen issues anywhere can lead to big problems everywhere. That's where the microPMU comes in. The microPMU is a high-speed synchrophasor that continuously records and streams time-stamped power quality measurements. This gives grid operators the most current visibility into operations for faster, more informed decision making.
Request a Quote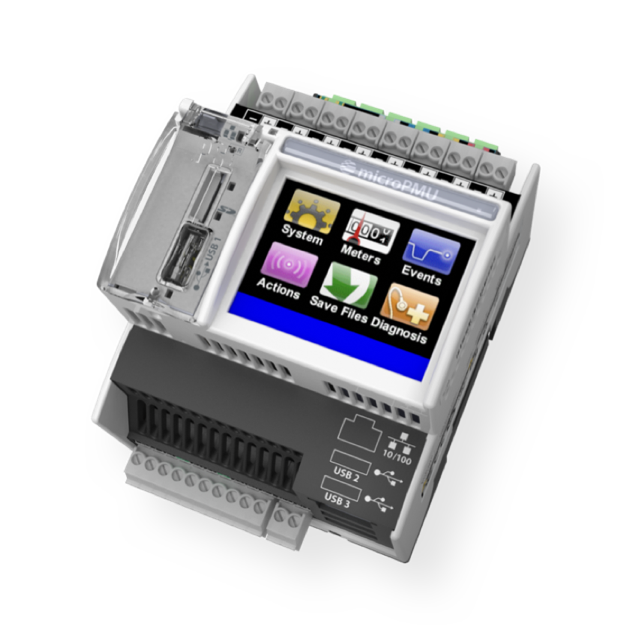 A 360º View of Grid Operations
The microPMU acts like a power quality microscope, zeroing in on system health at different geographic points across the grid and taking perfectly synchronized snapshots of key data points like voltage, current and frequency. These insights are automatically combined to give you a real-time, eagle's-eye view of your entire system with the sharpest clarity. Exactly what you need to investigate grid stability problems, identify events and uncover hidden threats.
Precision Monitoring for Vital Systems
At 100 or 120 evaluations per second, the microPMU delivers time granularity needed to dynamic changes in distribution networks. And with a total vector error (TVE) of 0.01%, the microPMU delivers the millidegree angle accuracy needed to ensure the stability of microgrids, distribution grids and power generation systems.
Simple Installation
Easily connect the microPMU to electrical panels, distribution poles, transformers and more
Real-Time Monitoring and Control
Be instantly alerted to changing grid conditions and emerging problems to trigger corrective action
Industry-Leading Performance
With best-in-class monitoring capabilities, the microPMU meets the standards of the U.S. Department of Energy and forms part of the North American Synchrophasor Initiative